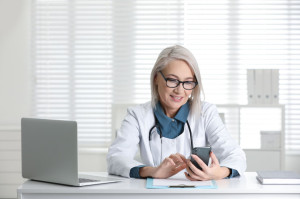 A strategy is an essential first step for solving all business concerns and goals. Developing a way to provide that type of service to other companies is also a way to put that strategy into practice.
This is one of the reasons why Dominion Revenue Services has started its own approach to outsourced medical billing and revenue cycle management. Tailored to hospice and home health agencies, Dominion 360 will bolster resilience and profitability while streamlining administrative procedures and providing consistency.
Here's a look at what Dominion 360 entails and how you can engage with an efficient and easy-to-use tool to make your processes run more smoothly, freeing you up for providing greater patient care.
More on Dominion 360

We've brought 25 years of healthcare expertise to this tool, working with a mix of software, processes and teams to address the revenue cycle. The coaching that we provide as part of Dominion 360 is geared toward results that are practical, relevant and centered on better results.
The tool also works well no matter what stage of development your business may be in. It's a flexible system that relies on technology that simplifies best practices according to what you need to know about regulations. It can be an empowering experience.
How it works
There are two main parts to how Dominion 360 is utilized by businesses. The first phase is training and support, as you purchase self-paced online courses that go into industry updates you need for billing codes and other concerns.
The second part is participating in cash flow and operational consulting to restructure your agency to increase cash flow through strengthened processes. How that structure works depends on your current situation. Dominion 360 is fully customizable to manage whatever problem your current home health or hospice agency may face regarding revenue.


We can help you through the entire billing process

Dominion Revenue Services has some clear goals for your business, whether through our revenue recovery services or the other programs we can provide. Our goal is for customers to realize increased cash flow, financial clarity, maximized revenue, and effective outsourced billing.
Other companies might solve revenue issues, but they often don't give their customers a complete understanding of what is happening. We explain all the methods behind our work, and work with you to achieve your practice's business goals.
To find out more about what we can offer you, please visit our website.
Healthcare Reimbursement Simplified
Improved Cashflow - Maximized Revenue
Contact DRS
610 Uptown Blvd Suite 2000
Cedar Hill, Texas 75104
Phone: 1-888-471-9333
Fax: 214-489-7435
Get Results With The DRS System